The St. Louis Soccer Hall of Fame is a not for profit organization and all donations are tax-deductible.

View the list of 2019 Saint Louis Hall of Fame award winners.

View the class of 2019 Saint Louis Soccer Hall of Fame Inductees.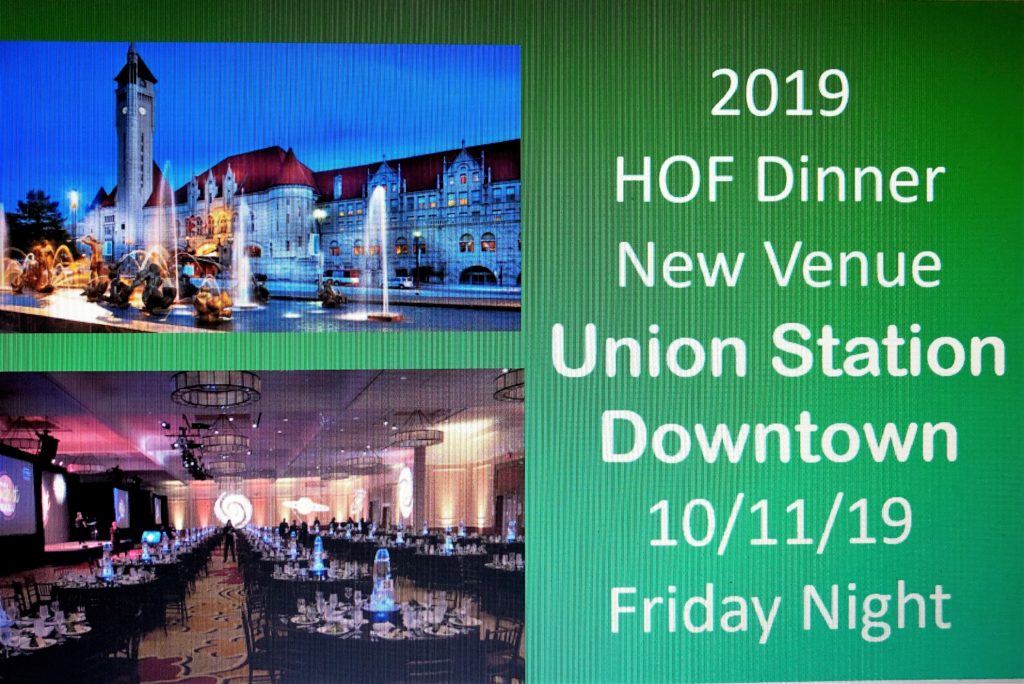 Union Station
Thanks for a Great 2019 Banquet
Watch for Save the Date Announcement
Location: Union Station Grand Ballroom.  1820 Market Street  St. Louis, MO. 63103.
Enter by way of 20th Street Entrance or Market
Parking Lot adjacent to 20th Street Entrance  Parking Spaces or Valet Service
Doors will open at 4:30 P.M. and a sit down dinner will be served at 6:30 P.M. with the ceremony starting at 7:30 P.M.
St. Louis Soccer Hall of Fame Class of 2019
Seated L-R Bob Burnes Benchwarmer Honoree Pete Fusz, Inductees Tim Strange, Dan Flynn, Ruth Harker, George Gansner, Vince Fassi, Jimmy Dunn HS Coach Chris Kenny, Bob Kehoe Future Stars Jack Meuse, and Jackson Miller
Standing L-R Keough Honoree Alli Klug, Bob Kehoe Future Star Analiese Wilmsmeyer, Inductees Steve Sullivan, Matt McKeon, Bill McKeon, Ted Hantak, Keough Honoree Will Bruin, Representing the Jim Scott Family, Mnsg Jimmy Johnston Honoree, grandson Luis Soffner, and Bob Kehoe Future Star Alli Palmatier
Years of Involvement in the St. Louis Soccer Community
St. Louis Soccer Hall of Fame Members
29 St. Louis Soccer Hall of Famers are represented in 3 National Soccer Halls of Fame. 25 in the United States Soccer Hall of Fame, 3 in the Soccer Coaches Hall of Fame (2 are also in USSHOF), 3 are in Soccer Officials Hall of Fame