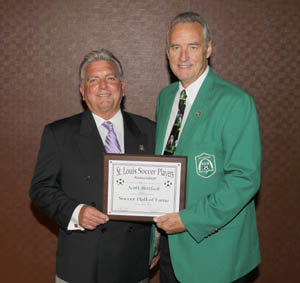 Scott Bettlach
Player Forward, Midfield and Back for 14 Years
CSMAC 1967-1968
St. Williams 1968-1970
Busch Bavarians 1970-1972
Quincy SC CYC Major League 1973
Pasta House CYC 1973-1975
Imos SC CYC. 1975-1978
Kutis Collegions CYC Major League 1978-1981
St. Louis Frogs ASL 1972
Quincy College NAIA Champions 1967
Kutis Collegians Missouri Amatuer Champions 1978-79
Missouri Open Cup Champions 1979-80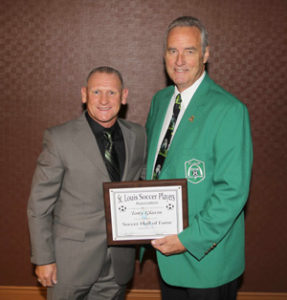 Awards
1976/77 Young Player of the Year Queen Park FC
1995 over 30 US Soccer Champions
1996 over 30 US Soccer runner up
1998 over 30 US Soccer runner up
Tony Glavin
Player Forward and Mid for 31 years
Queens Park FC. 1975-1978
Philadelphia Fury 1978
Hamilton Academically 1978-1979
Philadelphia Fury 1979-1980
Saint Louis STEAMERS indoor 1980-1987
Kansas City Comets indoor 1987-1991
Teams Managed
St. Louis Steamers Asst. 1983-1987
Saint Louis Steamers. 1983-1988
Kansas City Comets Asst. 1988-1990
Dayton Dynamo 1990
Saint Louis Lions 2006
Kutis SC and Kutis O/30 1991-2000
Steamers
MVP 1980-81
Most Goals 1983
Best Offensive Player 1983
110 Percent Award 1984
MVP 1981- 1982
MISL Finalist 1980-81
MISL Finalist 1982-83
MISL Finalist 1983-84
All-Star 1980-81 voted 3rd Star of the game- 2goals
All-Star 1981-82 voted MVP,Captain,3goals 2 asst.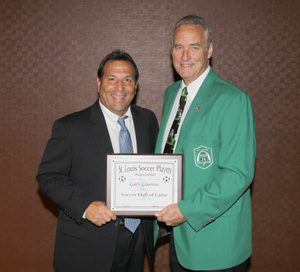 Gary Guarino – Player Forward for 15 years
St. Louis University NCAA 1974-1978
Imos Pizza SC CYC Major League 1976-1978
Ziegenhein SC CYC Major League 1978-1984
St. Ambrose SC CYC Major League 1985-1987
St. Louis University NCAA DIV 1 National Runner-up 1974
Ziegenhein SC Missouri Cup Champions 1978
Ziegenhein SC CYC Major League Champions 1982
St. Ambrose SC Missouri Amateur Cup Finalist 1985
Kutis O/50 National Veterans Cup Runner-up 2008
Kutis O/50 National Veterans Team 2006-2009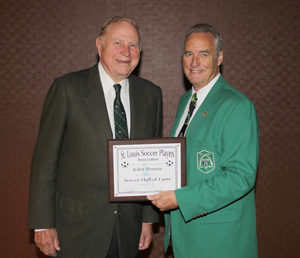 Robert Hermann
Donor of the trophy bearing his name, along with the Missouri Athletic Club, that is given each year to the outstanding male and female players in American College Soccer. Mr. Hermann was owner of the St. Louis Stars and California Surf of the North American Soccer League from 1968 to 1980 and chairman of the NASL's executive committee. He was involved in the formation of the National Professional Soccer League in 1966 and one of the leaders of that league until it merged with the United Soccer Association in 1968 to form the NASL.
Through his generosity, in 1999 the stadium and field on the campus of St. Louis University was completely remodeled and was rechristened the Robert R. Hermann Stadium.
For these and other contributions to the Sport of Soccer, Mr. Hermann was inducted into the United States Soccer Hall of Fame in 2001.
Mr. Hermann is a founder of Hermann Companies Inc., which is based in St. Louis and through its subsidiary manufactures and markets plastic packaging products food service, retail, and food processor industries.
Mr. Hermann founded the original Veiled Prophet Fair (now Fair St. Louis) in 1981. Founder and Honorary Chairman of "A Tribute to Our Troops Festival in Forest Park". He served in the U.S. Navy in World War II and saw action in the southwest Pacific Ocean on the flight deck of the Savo Island, a small aircraft carrier.
In addition to running Hermann Companies Inc., Mr. Hermann is a civic leader and was recognized for his services to the St. Louis Community when named Citizen of the Year in 1999. He serves as director of Hermann Companies Inc. Mr. Hermann also serves as honorary chairman of Hermann Companies Inc. and previously was its chairman. He has been active in philanthropy since 1957 when he helped organize the first charity polo match in Ladue.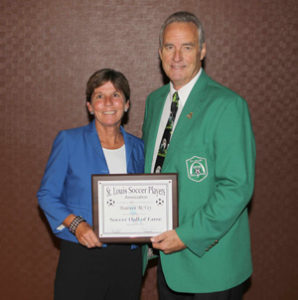 Maureen McVey – Player
Career Record 1984-2010
470, 106, 41
St. Joseph s Academy
State Champions 1998, 1999, 2001, 2002
National Champions 2002
28, 0, 1
Missouri Coach of the Year 1997,1998,1999,2001,2002
Midwest Coach of the Year 1997, 1998, 1999, 2002
National Coach of the Year 2003 NSCAA
Women's Sports Foundation Coach Of the Year 2000
National Federation High School Coach of the Year 2001
Missouri State Tournament
Second Place 2003
Third Place 2006
Soccer Dome 1979-1985
University of Missouri St. Louis 1981-1983
NCAA Final Four 1981 and 1983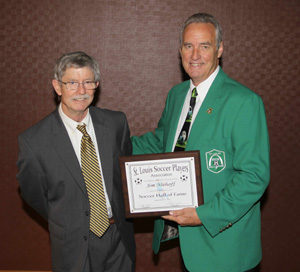 Jim Niehoff – Player Midfield and back for 8 years
Good Council 1966-67
Florissant Valley JC 1966-1968
St. Louis University 1968-1970
KUTIS SC 1970-1972
Frogs SC ASL 1972
Florissant Valley 2nd Place National Championship 1967
Florissant Valley National Champions JCCA 1968
St. Louis University NCAA Champions 1969-70
KUTIS SC 1970-71 Amateur Cup Champions
CYC All- Stars match vs. Dundee of Scotland 1967
Florissant Valley NJCAA All American 1966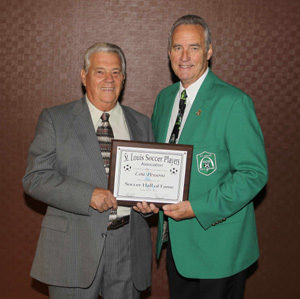 Lou Pessoni – Player Left Midfield for 12 years
Holy Family 1956-1958
St. Pius 1959-1960
Our Lady Of Sorrows 1961-62
Kutis SC 1962-63
Blue Circle 1963-1966
United Soccer Club NASL 1967-1968
Holy Family CYC Champions 1957-1958
Our Lady of Sorrows CYC Champions 1962
Kutis SC Missouri Open Cup Champions 1963
Blue Circle Khoury League Champions 1963-1966
Coach
23 years coach with Busch Soccer Club
Coached Boys U-10——-U-18
10 State Youth Championships
4 Midwest Regional Championships
1 National Championships (U-16 in 1988)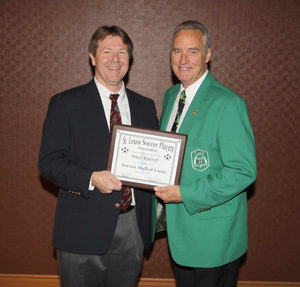 Bruce Rudroff – Player Midfield and Back for 8 years
Pepsi Cola SC 1973-1977
St. Louis University 1973-1976
Seattle Sounders 1977-1979
Tulsa Roughnecks 1080
US Olympic Team 1974
US Olympic Team 1979
Pepsi Cola SC
Busch Major League Champions 1973
MO Amateur Cup Champions 1974
St. Louis University NCAA Champions 1973
Seattle Sounders Pacific Conference Champions 1977
Brian P Burns Sportsmanship Award 1973
College All American St. Louis University 1974-1976
St. Louis University Captain and MVP 1976
College Senior Bowl MVP 1976
NASL Draft
First round fourth pick college draft 1977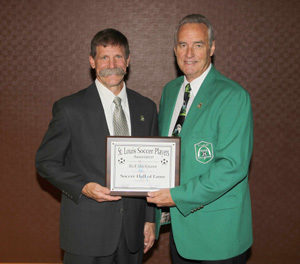 Rick Stockmann – Player Forward Midfield Defender for 21 Years
Ziegenhein SC 1982-1983 1984
Kutis SC 1978 – 1980
Biggies SC 1996, 1999
1979 St. Louis CYC All Stars, Budweiser League vs. IRELAND
1983 Player of the Year Budweiser CYC Major League
1983 John Merritt Award for Sportsmanship
1984 Missouri Amateur Cup Champions
1978 Kutis SC League Champions
1978 Kutis SC Missouri Open Cup Champions
1989 US Soccer National Runner up
1992 Kutis SC US Soccer National Finalist
Biggies SC CYC Closed Division Champions 1996-1997-1998-1999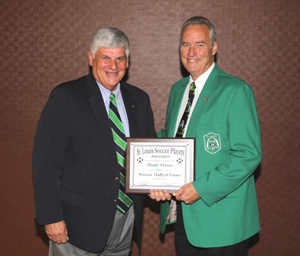 Matt Weiss – Goalkeeper
White Star 1969 and 1970
Pepsi Cola 1971-1975, 1977
St. Williams 1978
Quincy College 1971-1975
Dallas Tornado 1975-76
Boston Minuteman 1976
MVP Quincy College 1974
Collegiate Senior Bowl 1974
Top Twenty-Five Players Quincy College in the first 25 years
Quincy College Hall of Fame 1995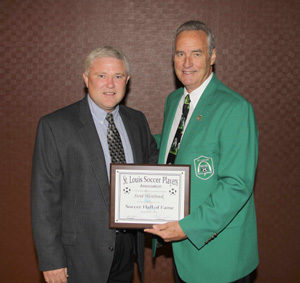 Steve Westbrook – Midfield and Defender for 18 years
Indiana University NCAA 1977-1980
Detroit Express ASL 1981-1983
Wichita Wings MSL 1984-1985
Michelob SC Budweiser Major League 1988
Seven-Up SC Budweiser Major League 1989
Biggies SC CYC Closed Division 1989-1990
Amighetti's SC O/30 1990-1992
KUTIS O/30 Budweiser Major League 1992-1994
Soccerhaus SC 0/30 National Champions US Soccer
Detroit Express ASL League Champions 1982
Biggies SC CYC City Champions 1991-1994
Detroit Express ASL First Team All League 1981-82
Detroit Express ASL MVP 1983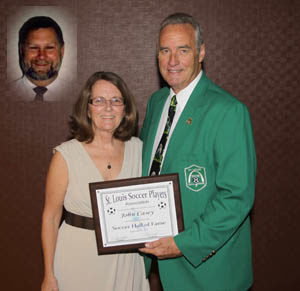 POSTHUMOUS INDUCTEE
John Casey
John spent a lifetime as a youth soccer advocate and coach. He was a key figure in developing top-level girls' players at JB Marine Soccer Club and served as the Missouri Youth Soccer Association's coordinator for its Olympic Development Program. John played at Benedictine College and was head soccer coach at Mc Kendree and Benedictine. He passed away in May of 2010.