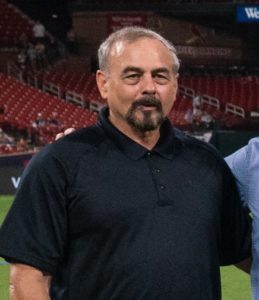 USA v Uruguay: International Friendly
St. Louis, MO - SEPTEMBER 10: St Louis Hall of Fame, USMNT v Uruguay at Busch Stadium.
Vince Fassi-A product of "The Hill", Vince proved that hard work and determination will pay off in a big way.  His soccer career spanned from St. Ambrose and C.B.C. High School, where he captained the State Championship of 1969, to Lindberg Cadillac, Giesler-Jorgan, and short stints with Stag.  Vince found his way to Southern Illinois University Edwardsville where he found a home with other members from the St. Louis area.  In 1971 Vince was voted team MVP and in 1972 was honored with All-American 2nd Team and a trip to the Senior Bowl.  This was in addition to the 1972 NCAA Division II National Championship won by SIUE.  Drafted  by the Dallas Tornados in 1973, Vince decided to stay close to home where he gave his talents back to the soccer community by coaching for CYC teams as well as continuing  his playing career with the Kutis Veterans Team as well as a member of the Senior Olympics.  Vince was inducted into the SIUE Hall of Fame as a team member in 2005 and as an individual player in 2009.
Picture from SIUE archives.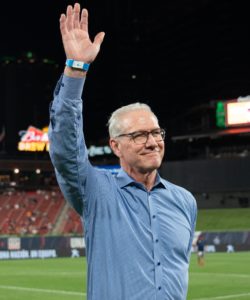 USA v Uruguay: International Friendly
St. Louis, MO - SEPTEMBER 10: Dan Flynn, St Louis Hall of Fame, USMNT v Uruguay at Busch Stadium.
Taken from United States Soccer Federation Website.
Dan Flynn:  As U.S. Soccer's CEO/Secretary General since June 1, 2000, Flynn has taken his lessons learned from the field and applied them administratively at the sports highest level to help spur the United States Soccer Federation's growth into one of the most respected national governing bodies in the country.  Through his tireless efforts, Flynn has been responsible for instilling the groundwork for U.S. Soccer's success in the new millennium.  In the 18 years as the organization's CEO, Flynn has catapulted U.S. Soccer's business growth into an organization with more than $150 million dollars in reserve.  With the benefit of several multi-million dollar partnerships, Flynn oversaw a renewed focus on National Team and player development, creating more opportunities for youth players of all ages by adding Youth National Team programs from U-14 to the U-20's, and launching the Boys' and Girls' Development Academy Programs.Flynn has focused on creating soccer facilities, leading to the development and construction of U.S. Soccer's National Training Center at the StubHub center in Carson, Calif., which opened in June 2003, and the National Training and Coaching Development Center in Kansas City, Kan., which opened at the end of 2017.  He also led the process of building the brand new National Soccer Hall of Fame in Frisco, Texas, which opened in October 2018.  Flynn has also overseen the establishment and expansion of the U.S. Soccer Development Fund, engaging with benefactors at all levels to help support Federation initiatives.  During the summer of 2003 Flynn served as the Chief Executive Officer of the FIFA Women's World Cup USA 2003, putting his strong business background to work in preparing the framework to help the Local Organizing Committees successfully stage the tournament.  With the attendance peaking above 350,000 despite just four months to organize the event, the tournament was the most financially profitable Women's World Cup ever.  Flynn's career path has included both sports marketing and management positions at Anheuser-Busch, as well as more than 19 years of experience within the sport of soccer at World Cup 1994, the U.S. Soccer Federation and the U.S. Soccer Foundation.  Flynn was a part of the amazing growth of Anheuser-Busch, where he served in numerous capacities both domestically and internationally.  He was also directly involved in Anheuser-Busch's sponsordhip of the 1986 World Cup in Mexico, which served as the springboard for their future involvement in the sport on a long-term basis.  For two years, Flynn served Executive Director of the U.S. Soccer Foundation, where he was responsible for the organization's overall management.  Prior to joinng the Foundation, he played key roles at both World Cup 1994 as the Venue Director in Chicago, and at U.S. Soccer, where from 1994 to 1998 he managed the day-to-day operations at the Federation headquarters in Chicago.  A graduate from St. Louis University, Flynn was a defender at SLU from 1973 to 1977, helping the Billikins to an NCAA championship in 1972 and to a runner-up finish in 1974.
Added by the  St. Louis Soccer Hall of Fame. Dan was also a the Kutis Soccer Club with a Missouri Open Cup championship to add to his playing career.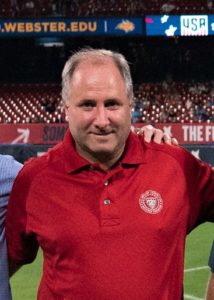 USA v Uruguay: International Friendly
St. Louis, MO - SEPTEMBER 10: St Louis Hall of Fame, USMNT v Uruguay at Busch Stadium.
George Gansner: George probably never thought his soccer career would end up the way that it did.  As a player, George attended Florida Southern College and in 1995 took an opportunity that few have and he found his way to Germany where he played in the German Landesliga.  It might have been there that he saw the need for quality referees and this set the stage for George.  In 1988 starting with local, regional, and national games quickly moved to College ranks in 1995.  The ultimate compliment was from 1997-2015 working the lines for Major League Soccer.  His knowledge of the game and decision making skills was the keynote for every level of competition.  As a FIFA Assistant Referee from 2002-2014, George ran the sidelines for the U-20 FIFA World Cup in 2007, CONCACAF Gold Cup in 2007, CONCACAF U-17 and U-20 World Cup Qualifiers, FIFA World Cup and Olympic Qualifying matches.  George was scheduled to participate in the 2008 Bejing Olympics, but an injury canceled the trip.  Over 250 MLS matches and 30 Playoff matches and during that time frame, George participated in the 2007 Gold Cup Quarter Finals, 2007 US Open Cup Final, 2005 MLS All-Star game, 2006 CONCACAF Championship Finals.  George is a member of the NISOA, Professional Soccer Referee Association and a lifetime member of US Soccer.  Even though he may be retired from the Professional game, George continues to mentor young referees in the art of dealing with all of the extenuating situations that accompany the game of soccer along with the proper interpretation of the rules.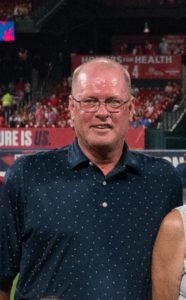 USA v Uruguay: International Friendly
St. Louis, MO - SEPTEMBER 10: St Louis Hall of Fame, USMNT v Uruguay at Busch Stadium.
Ted Hantak:  If a team need a goal in the last minutes of an important game, Ted was the player.  Always seeming to be in the right place at the right time.  After attending Meramec CC for a year, Ted transferred to Forest Park CC in 1983 where Ted received All-American 2nd Team honors and was the leading scorer for the year.  Finishing his college career at UMSL in 1984 and 85 where he was the teams leading scorer and received All-MIAA and All-Midwest Region, and 2nd Team All-American.  In 1986 Ted made the jump to the Pro ranks with the Memphis Storm and making the AISA All-Rookie Team.  Two more years in the MISL and after that found Ted returning to his roots in St. Louis.  Beginning with the Busch Soccer Club he moved to the Kutis SC where he was instrumental in two National titles, the 1986 Open Cup Championship where he scored the winning goal and in 1995 as a member of the Kutis O-30 National Champions.  As a compliment to Ted's tenacity, he also participated with the United States World Cup National Team with 3 caps, the World University Team, and the Pan-American Team.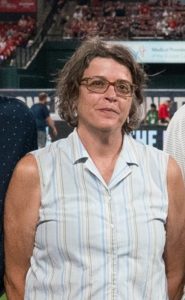 USA v Uruguay: International Friendly
St. Louis, MO - SEPTEMBER 10: St Louis Hall of Fame, USMNT v Uruguay at Busch Stadium.
Ruth Harker: As you read Ruth's accomplishments, keep in mind that she really didn't start playing soccer until she was 14 and while being an all around athlete playing every sport she could, Ruth has been blind in her left eye since birth.  While still in high school and before entering the college ranks, Ruth traveled to Europe with the Trammel-Crow Women Team and played games in Sweden and Finland.  Refining her skills to the delight of Coach Ken Hudson, Ruth started her college career at UMSL playing for a Division II school with a Division I schedule.  From 1982-85, Ruth was awarded All-Region and All-West First Team honors.  Records of her accomplishments still are in the record books of UMSL and NCAA for Solo shut-outs and Record Shut-Out %, plus a number of other records.  In 1985 the team honored her with the MVP award.  Participating in the Missouri Olympic Development Program, she was chosen for 3 Olympic Festivals winning the MVP award along with a Bronze medal.  From 1985-86 Ruth was also a part of the United States Women's National Team and in 1985 participated in the Inaugural World Cup European matches recognized by USSF and FIFA. ( First year of the current World Cup).  1987 was also the First USSF Women's North American Cup.  Always giving back to the game she loves, Ruth has coached at the school, club, and University levels along with being the constant volunteer for organizations such as Easter Seals, YMCA, and Mathews-Dickey Boys and Girls Club.
Ruth was Inducted into the UMSL Athletes Hall of Fame 2/21/2020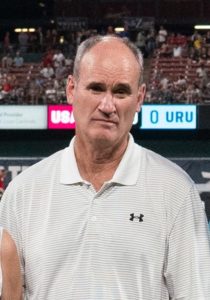 USA v Uruguay: International Friendly
St. Louis, MO - SEPTEMBER 10: St Louis Hall of Fame, USMNT v Uruguay at Busch Stadium.
The St. Louis Soccer Hall of Fame would like to thank Shannon and Molly McKeon on beginning the application process for their Uncle Bill and Uncle Matt.
Bill McKeon:  It was a given that Bill would be a stand out player early on in his soccer career.  Working hard through the Busch Soccer Club paid off big time and started when he was chosen for the U-17 National Team, plus 1978 added the Gatorade National Player of the Year while finishing his high school career at DeSmet.  The National Team must have liked what they seen when Bill was made a part of the U-19 Team in 1980-81.  Accepting a scholarship to St. Louis University, Bill was selected as a 2nd Team All-American in 1979 and in 1980 received 1st Team All-American honors.  Early on at SLU, Bill was also part of the 1980 United States Olympic Team where as an 18 year old, patrolled the backfield making appearances in 4 games.  In the St. Louis amateur league, Bill was on two National Amateur Cup  team in 1980 and again in 81 playing for the Busch Soccer Club.  1982-84 Bill found his way to the indoor game with the Kansas City Comets.  In 1995 Bill was inducted into the St. Louis University Hall of Fame.  In 2009 Bill received honors as being a member of the Billiken Half-Century Team.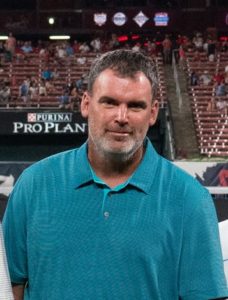 USA v Uruguay: International Friendly
St. Louis, MO - SEPTEMBER 10: St Louis Hall of Fame, USMNT v Uruguay at Busch Stadium.
The St. Louis Soccer Hall of Fame would like to thank Shannon and Molly McKeon on beginning the application process for their Uncle Matt and Uncle Bill.

Matt McKeon:  The career of Matt and exploits that pertain to Matt's career is a who's who of accomplishments that you can only dream of and Matt's dreams came true.  Following Bill at DeSmet, Matt was also named Gatorade Soccer Player of the Year in 1992 and on to St. Louis University where he played from 1993-95.  1993 had Matt as an Honorable Mention All-American and in 94 First Team All-American.  1995 at SLU was a year to remember starting with another First Team All-American nod. Plus, three time CUSA player of the week, First Team CUSA All-Conference, CUSA Offensive Player of the Year, CUSA MVP Forward in Conference Tournament, Great Mid-West Conference MVP, and Team MVP.  The culmination of 95 was being named the MAC National College Player of the Year.  This was before the merging  of the Hermann Award in 2002.  In 2002 Matt was inducted into the St. Louis University Hall of Fame and in 2009 named to the Half-Century Team.  Early in Matt's career at Scott Gallagher his talents were obviously something special.  Beginning his early soccer growth, Matt was selected a member of the newly formed  U-14 Development Program, it was then on to the U-17-20-and 23 Teams then on to the United States Men's Olympic Team in 1996, then the United States Men's National Team in 1999.  Matt's pro career started with being named First Overall Pick in the MLS draft by the Kansas City Wizards where he actually started playing in 1996, traded to the Colorado Rapids in 1999, the return to play 2000-2002 with the Kansas City Wizards.  On his return, Matt was a member of the MLS Champions in 2ooo and a member of the 2001 MLS All-Star Team
One last tidbit and fact, Matt was the second player to participate and play at every level of the United States Men's Development Program that included the United States Men's National Team.  First player was Claudio Renya.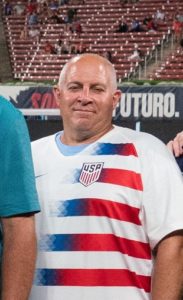 USA v Uruguay: International Friendly
St. Louis, MO - SEPTEMBER 10: St Louis Hall of Fame, USMNT v Uruguay at Busch Stadium.
Tim Strange: An outstanding Scott Gallagher alumni, Tim was a member of the 1984 State, Regional, and ultimate winner of the National McGuire Cup.  Tim was recruited and attended St. Louis University from 1985-90 while continuing to play on the Senior scene for SGSC and a couple of years  for the Kutis SC.  A member of perennial State and Regional Championship Teams, Tim made it to the finals with his team one year, only to lose in the finals.  Tim was in the right place at the right time when in 1989 when a position as assistant Men's Team at McKendree University and the fit was a natural.  In 1994 took over responsibilities as Head Coach for the Men and continued until 2011.  In 1999, Tim started to carry two hats when he accepted the position of the Women's Head Coach and continues to this day as their Head Coach.  He was able to do both as stated for a number of years, but the Women's Team has his undivided attention.   With Conference Championships on the Men side in 2007-08-09 made Tim AMC Coach of the Year in 2007 and 08.  On to the Women's program, Tim has been named Conference Coach of the Year 10 years, 8 were consecutive years.  Two consecutive NSCAA Regional Coach of the Year credits in 2007 and 08.  The Women's Team has bee just as successful, with GLVC Tournament Champions in 2016 and 2017 that included an automatic D2 National Tournament birth.  2018 regular season Conference Champions and an at-large birth into the D2 National Tournament.
Picture from SLU archives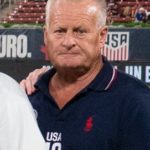 USA v Uruguay: International Friendly
St. Louis, MO - SEPTEMBER 10: St Louis Hall of Fame, USMNT v Uruguay at Busch Stadium.
Steve Sullivan: The ultimate scoring machine receiving All-American and NSCAA All-American honors at St. Thomas Aquinas, Steve moved on to Florissant Valley CC setting a single season scoring record and recording First Team All-American honors by the NJCAA,  Staying only one year at Flo-Valley, Steve moved to St.Louis University.  While at SLU, Steve was a NSCAA Second Team All- American and the Nike Soccer Player of the Year for 1979.  Steve's scoring records at SLU places him in the upper bracket for career points and goals, along with single season points and goals.  For these accomplishments, Steve was inducted into the St. Louis University Hall of Fame in 1995.  Steve's impact on scoring opened doors that his exploits were noticed on a national level and in 1979 Steve participated in the 1979 Pan-American Games.  Steve's soccer career actually started with the Ruiz Soccer Club and the Wanderers that traveled and participated in the Dublin Games with Hall of Famers Perry VanDerBeck and Jeff Sendobry.  Joining the Busch Soccer Club in 1980, he made an immediate impact with winning the 1980 National Amateur Cup.  It was also in 1980 that Steve was a first round draft pick for the St. Louis Steamers and while only playing one year, it culminated being an MISL Runner-Up.  Never wanting to hang up the boots, Steve still plays with a CYC Mens O-30 team in St. Charles County.
Picture from SLU archives.