Jim Nolan: Versatile backfield and forward, age 55.  Played 19 years starting in 1957, with Little Flower, All Souls, St. Kevin, Nativity Good Counsel, St. Barts, Garza, Pat Kenny, L & L, Mattingly's, St. Lucy's.  A 6 time All-Star, he is still playing indoor soccer.
This was the bio on Jim Nolan when he was inducted into The Old Time Soccer Players Association of St. Louis Soccer Hall of Fame in 1994.  The majority of those in the room may or may not remember what an outstanding player Jim was during his playing years.  His playing style was much like the  demeanor he showed as a person.  Follow directions from your coach, stay cool and calm, play smart, be a teammate and success will follow.  There wasn't too many things that would make Jim get out of control.
Most of the new members of the Hall of Fame remember Jim as the driver of the old Soccer Hall of Fame shanty the he pulled in the St. Patrick's Day Parade.  Meticulous in his work every year he would make sure that everything was safe and to code.  He also made sure all the Inductees had their names inscribed in wood that he did all himself, every year.
From the time of his Induction in 1994, Jim has always promoted the Hall of Fame and for many years Jim was also a member of the Hall of Fame Committee.  For his service to the St. Louis Soccer Hall of Fame on and off the field, we are  pleased to honor Mr. Nolan with the Monsignor Jimmy Johnston Award.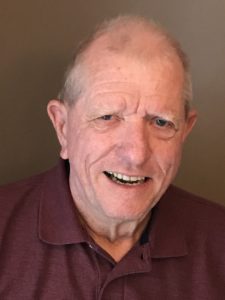 PREVIOUS HONOREES:
2018 Jim Nolan, 2017 Bob Reid, 2016 Bob Brunette, 2015 George Mihaljevic, 2014 Rich Meisemann, 2013 Dave Berwin, 2012 John and Peter Traina,
2011 Bob Kehoe, 2010 Jack Lyons, 2009 The Kutis Family, 2008 Ray "Goose" Gilliam, 2007 Frank Borghi, 2006 Jack Mackenzie,                              2005 Harry Keough, 2004 Leo Sanders, 2003 Bob Fuchs, 2002 Mike Kalist & Paul Scovill, 2001 Joe Numi, 2000 Msgr. Larry Walsh,                        1999 Frank Gambaro, 1998 Dr. Ed Flynn, 1997 Patrick Lee, 1996 Charlie Shinabargar, 1995 Art Hofer , 1994 Jim Dykes, 1993 Rev. Larry Herzog,    1992 Terry Michler , 1991 John Schaper, 1990 Rev. Jim Flood 1989 Greg Raftery, 1988 Mayor Jim Eagan, 1987 Ed Lovinguth, 1986 Ebbie Dunn ,  1985 Larry Walsh, 1984 Pete Sorber, 1983 Tom Twellman, 1982 Bob Guelker, 1981 Gene Baker, 1980 Pat McBride, 1979 Ron Coleman
THE HISTORY OF THE MSGR. JIMMY JOHNSTON AWARD
The 1919-1920 Soccer Season saw the Ben Millers of the Local amatuer league win the National Open Cup Title by besting a team of professionals from Fore River, Mass. The Ben Millers were composed of all native St. Louisans, the first of many National Championships made up of American born players to capture the Cup. The winning goal was scored by the great Jimmie Dunn, as the Millers won 2-1. The captain and halfback was Msgr. Jimmie Johnston (at that time he was a seminarian). In 1970, Msgr. Johnston organized a 50th reunion of the remaining members of that squad. They gathered at the Carpenters Hall on Hampton, and had such a great time, they decided to do it again in 1971 and invite other Soccer luminaries of the area to join them. Thus was born the "OLD TIME SOCCER PLAYERS HALL OF FAME IN ST. LOUIS". Twenty-two stars of the past were inducted on November 11, 1971. Since then, over 900 players, coaches, sponsors, referees and administrators from the past 120 years have been enshrined, many posthumously. In 2003, the organization adopted the name of "THE ST. LOUIS SOCCER HALL OF FAME". Msgr. Jimmy Johnston was born on December 8, 1896 and passed away June 11, 1979. A memorial plaque in his honor is presented at the yearly induction dinner to an individual who has possessed the same passion for the game and has spread the gospel of Soccer to make it the greatest sport in the world.