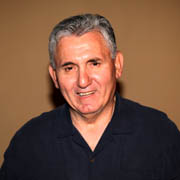 Tom DiMaria
Tom's Story
Tom DiMaria attended Quincy College as a goalie and was an NAIA Champion along with being a two time member of the NAIA All-Tournament team. Tom was the 1970 MVP for Quincy and had 31 Shut outs while at Quincy. Returning to St. Louis, Tom was a member of the Midwest Olympic pool, Tom played for St. Barts league champions and then found him moving from the Quincy team, to Busch, Imos, Our Lady of Sorrows, the Kutis Collegians Amateur Cup Champions and the Frogs S.C.
Tom went on to coach Harris Stowe on the college level and Scott-Gallagher and Busch S.C. at the club level. Tom's teams won a number of SLYSA, Mid-West, and State Championships. On the high school level, Tom coached at Ritenour High School.
Tom also had time to be a college referee for 16 years.