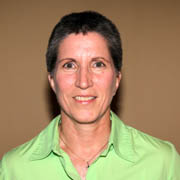 Joan Gettemeyer
Joan's Story
Joan Gettemeyer is a three time All-American that included 2 First Team honors and a finalist in 1981 for the Borderick Award for outstanding female collegiate athlete that spans all athletic categories. Joan was team captain for UMSL throughout her college career. This leadership was awarded by being named to a number of All- District and All -Tournament teams. Joan was the UMSL team MVP for 3 years along with being awarded the UMSL Female Athletic of the Year.
Joan began playing outside of college for Soccer Dome, Royal Midtown Chrysler s, Club Irish and Busch Soccer Club. While on these teams, Joan appeared as a member of 4 Final Four National Amateur Championships. Joan also was a member of the Olympic Festival Team.
Joan was inducted into the UMSL Hall of Fame in 2004.