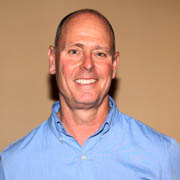 Tom
Tom's Story
Tom Groark was a member of the SIU Edwardsville NCAA Division I National Champions where he received All-American honors twice in his college career.
Tom was a member of Gaffneys, Busch, and Kutis Soccer Teams and a member of the Olympic pool. With the Busch team, Tom won a US Amateur title, and being a finalist for an Amateur title another year while winning a National Open Cup under the Busch banner. As a Kutis SC player, the team landed an Open Cup Final and as a Kutis O-30 team member won the National O-30 Championship.
On the professional scene, Tom was drafted out of high school by the Minnesota Kicks and after college the Chicago Sting. Tom then landed in Ft. Lauderdale with the Strikers, Carolina Lightnin' and back to Ft. Lauderdale to play with the Sun winning a USL Championship. Tom was inducted into the SIUE Athletics Hall of Fame in 2012. His Dad, also Tom Groark, was inducted into the St. Louis Soccer Hall of Fame in 1990.