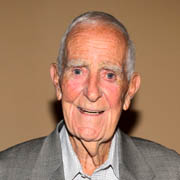 Gene Silberberg
Gene's Story
Throughout Gene Silberberg's playing career, he was always a defender playing for some of the great teams of the late 40's and 50's. The El Reys, Brehenys, Sullivans, and Hoppe soccer clubs were a few of the clubs that won league and state titles. Gene's illustrious career started as a 17 year old playing for the Steamfitters and receiving an invitation to represent St. Louis at the Olympic Trials in Chicago as one of two full backs, the other was Bob Annis. It was immediately followed by a trip to New York for final selection of the 48 Olympic Team, only to have the coaching staff shift Charlie Columbo to the back line. Needless to say, this was the molding of the Olympic Team of 48 and the World Cup Team of 50.
After the final selection, Gene enlisted in the service at age 20, to serve in the Korean War. On returning from service in 1953, Gene was selected by the coaching staff to replace an injured Charlie Columbo for the 54 Olympic Team trials with Harry Keough as the other St. Louis full back.
Gene still remembers his last competitive game at Carondelet lower field, where his foot was caught in a hole while shooting, and tore his knee so bad, he was never able to play again.